Emergency Flooding Cleanup in Greater Birmingham
Quick response for leaks, pipe bursts, and other plumbing failures in Bessemer, Helena, Talladega, Birmingham & nearby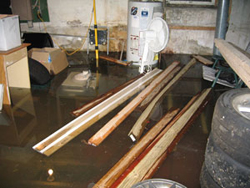 Fast action is essential. When a basement floods for any reason, it should be pumped out as quickly as possible to minimize moisture damage and mold problems.
At Disaster Restoration, we define a plumbing emergency as any situation that puts water where it doesn't belong. Plumbing emergencies can cause a great deal of damage.
Many homes experience some sort of water damage, often the result of internal plumbing failures (including hot water heater flooding, washing machine hose flooding or dishwasher flooding) or natural disasters like river flooding and hurricanes.
Water leaks and flooding can happen for numerous reasons. Regardless of the cause, one rule always applies: Get expert restoration services as soon as possible. Disaster Restoration has the right resources and discovery recovery experience to respond quickly to your plumbing emergency and provide effective cleanup solutions.
We provide fast written estimates for emergency water damage restoration throughout the Alabama, including Birmingham, Bessemer, Talladega, Helena and nearby.
Prompt, expert action can minimize damages
When a pipe bursts or a water heater begins to leak, the water doesn't automatically turn off. Water keeps leaking where you don't want it to go, damaging and often ruining wallboard, carpeting, furniture, and other items.
Our trusted contractors are here to help. We can pump out a flooded basement quickly and efficiently, and provide any necessary drying, and water removal services.
We help restore Birmingham's flood-damaged homes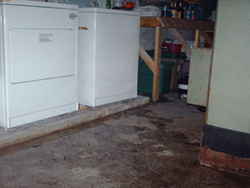 Laundry leak. An old washing machine supply hose can crack, leak, and flood the basement floor causing water damage to your home and property.
Whether your home is flooding from a plumbing failure, from groundwater, or is simply moldy and humid, our experts have the skills, training, and professional experience to remove the water and clean up your home!
A home damaged by water or flooding should be fixed right away to prevent further damage from mold and rot.
To schedule a disaster restoration estimate with us, contact us by phone or e-mail today!
Schedule a free service estimate in Greater Birmingham
Contact Disaster Restoration to get started on restoring your property after a flood, plumbing leak, or burst pipe dumps water where you don't want it. We are your local water damage restoration experts serving Alabama, including Talladega, Birmingham, Bessemer, Helena, and areas nearby.
Looking for a price? Get a no cost, no obligation free estimate.